God's Timing: A Masterful Orchestration of Events!
1989 The wall in Berlin falls and Eastern Europe declares itself independent of the Soviet Union
1990 Protestant missionaries start arriving in the Soviet Union; the Purcells arrive in October 1990 to begin working with Russian college students under the Navigators. They had three children when they arrived, and three more were born after they moved to Russia.
1993 The Christian Reformed Church of America employ Kashirski and Lotsmanov and others to translate Calvin's Institutes, the Westminster Confession and the Heidelberg Confession.
1998 The church confirms Blake Purcell's call to help found the Reformed Church of Russia by planting churches and starting a seminary while he is in the U.S. on a one-year furlough. The Mississippi Valley Presbytery of the PCA ordains Blake as a teaching elder/ evangelist to Russia. ARDM International agrees to overwatch and administer the ministry for the presbytery.
1999 The Reformed Presbyterian Church of St. Petersburg is founded in January and by April of 2000 has twenty-five members.
The first Reformed seminary in the history of Russia (to our knowledge) opens its doors in September to eight full-time students from across seven time zones. One half are married with children. One of the first students enrolled in the Reformed Seminary of St. Petersburg was Andre Zeekov, who was the first Russian man Blake Purcell discipled, starting in January of 1992. Our seminary, then, is the newest phase of the oldest missionary ministry in St. Petersburg.
2000 In March the seminary accepts its first student by extension, Sasha Demidko, who lives near Vladivostok. He flies 6,000 miles both in January and March for intensive study programs with visiting professors. The budding "presbytery" now spans the world's largest country!
The seminary welcomed its first visiting professor, James Jordan, from the US for a two week intensive course on the books of the Restoration era.
From that time we've had the honor to meet many distinguished professors in our seminary: Dr. Peter Leithart (Ph.D. at the University of Cambridge in England), Rev. Morton Smith (Greenville Presbyterian Theological Seminary), Mr. Gary Vander Hart (M. Div., Westminster Theological Seminary, 1969), Rev. John Mahon (Master of Arts in Ministry from Moody Graduate School in Chicago, Illinois), and many others.
2000 – 2005 8 full-time students
2003 In February the Seminary holds a seminar "Theology of the Holy Spirity" with R.C. Sproul, Jr. and 64 participants from different churches of Russia, Ukraine and the United States.
In spring the first ever student to graduate is Oleg Chernishev.
2004 New graduates: Oleg Volkov (Leningrad region) and Ravil Kunakayev (Ufa).
2005 In February the Seminary holds a biblical seminar on the Book of Revelation with Dr. James B. Jordan.
In the fall five full-time students are enrolled. They study apologetics with Gary Vander Hart, systematic theology with Blake Purcell and typology with Joseph Hynk.
2006 In February the Seminary holds a seminar "Calling in Christ" with R.C. Sproul, Jr.
In May the Seminary moves from one flat to the other and from the old training program to the new one. Pastors and deacons from many regions of Russia and former Soviet Union came to St. Petersburg to participate in the first intensive course. 17 people studied the Old Testament and the Biblical Theology with James Jordan, and Pastorology and the Gospels with Blake Purcell. Besides, we celebrate our next graduate Igor Krutogolov. James Jordan and Jeff Meyers came to participate in the graduation ceremony.
2006 Seminary full-time program continues in December with 3 local students. This month they had to take 7 (!) exams on the history of Ancient philosophy, apologetics, hermeneutics etc.
2007 In spring the seminary changes its location again and moves to another apartment where it stays for a long time. For many years this place is a center of the Seminary and St. Petersburg church ministry. It's a place where we hold all our intensive course, worship services, seminars, Bible Studies, and where all our students and guests live when they come to St. Pete.
2008 In January our full-time students listened to lectures on Marriage Covenant by Rev. John Mahon.
9 people came to participate in the intensive course in March: 3 from Ukraine, 3 from the Far East, 1 from Kazakhstan (Evgeniy Kruzhkov, future Dean of Students) and 2 local. They all lived in seminary apartment and had the privilege to listen to guest teachers David Shormann, Eric Sauder, and Joost Nixon.
Together with the regular intensive course, the seminary holds a conference on Christian education. Speakers: David Alders, Joost Nixon, David Shormann, Blake Purcell etc.
10 people came to the intensive course in June, and the seminary continues its full-time program for 2 local students.
2009 March - the second conference on Christian Education "In Christ are Hidden all the Treasures of Wisdom and Knowledge (Col. 2:3) - seeing every academic subject through Christ, and Christ through every academic subject". Speakers: Patch Blakey and Bob Donaldson.
At the same time the seminary holds the regular intensive course with 7 people who came to listen to James Jordan's teaching on Isaiah, Jeremiah and the Lesser Prophets. The new graduate is Sergey Matsuk!
In June Seminary begins online lectures to continue teaching students and have fellowship with them between regular intensive courses. Blake's course on apologetics was the first try – eleven people participated!
8 people came to the fall intensive course. There were four exams and the average grade was 92.65! Visiting professor: Rev. John Mahon. New graduate - Evgeni Ikonnikov!
2010 In March, 11 students – six exams. Visiting professors: Eric Greene, Eric Sauder and Ben Burgher. Blake Purcell, Oleg Volkov and Alexander Schmidt lectured too.
In September, 8 people came to listen to Jim Jordan's and Blake Purcell's teaching.
October was the first guest session of the Biblical Theological Seminary in the Far East of Russia. Blake and Jim Jordan flew from St. Pete straight to Vladivostok where they met Gregg Lawrence and David Shormann. They all taught about 20 young godly men of that area who came to take part in the intensive course.
2011 Twelve people came in March to listen to visiting professors Brian Nolder, James Jordan, and Terry Tollefson. New graduates: Kirill Treschetka (Kavalerovo, the Far East of Russia) and Evgeni Kruzhkov (Kazakhstan, and later Dmitrov, near Moscow).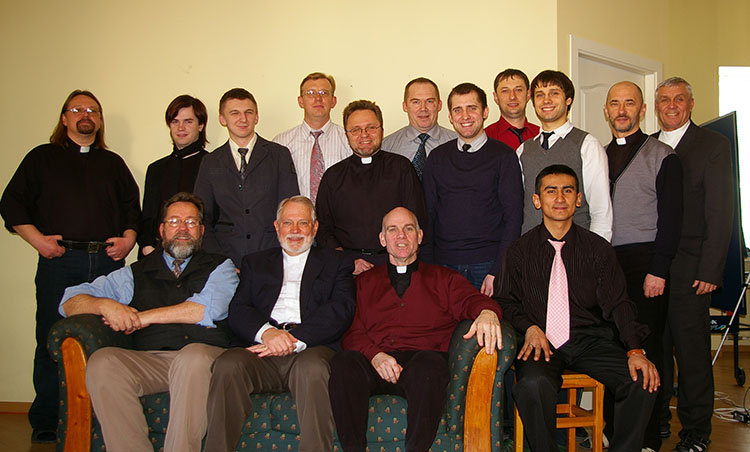 2012 March intensive course - 12 people from different regions of the former Soviet Union: Latvia, Belorussia, Uzbekistan, the Far East of Russia, Kazakhstan etc. Evgeni Kruzhkov becomes a dean of students of the seminary. New graduate - Yuri Levchenko!
2013 March intensive course: 9 students from far away + locals. Visiting professor: Phil Kayser.
In May the seminary reorganizes its activity and quits the office in the center of the city but remains faithful to students and curriculum.
September intensive course takes place in the Christian University of St. Petersburg where we have our classes and accomodate all students and guest. Visiting professors: Rob Rayburn, Jim Price and James Jordan.
For the first time we organize special sessions for our students' wives with Florence Rayburn and Paige Price.
2014 - In March David Shormann teaches apologetics.
In November Ken Matlack teaches about small group ministry.
2015 - James Jordan (Old Testament), Jeff Meyers (Liturgy and James) and Bryan Chappell (homiletics).
2016 March - Visiting professors: John Mahon, Matthew Lanser, Eric Irvin, Brian Nolder and Mike Kelly. Three graduates: Timur Anichkin (Latvia), Ridon (Uzbekistan), and Ruslan Moroz (Romanovka, the Far East of Russia). The birth of a new Presbytery "The Reformed Presbyterian Church of Eurasia" and ordination of new ministers.
In November seminary students study Greek with Anatoli Sysoev (professor of St. Petersburg Christian University), the Covenant in the Book of Genesis with Evgeni Kruzhkov and Discipleship and the Biblical Worldview with Blake Purcell.
2017 Four new students from areas where the seminary has not yet set its foot in: Omsk, Saratov, Engels and Slavgorod. According to our curriculum they studied the History of Reformation with Sergey Sudakov (Ukraine), Theology and Practice of Leadership with John Coody and Alexander Negrov (Christian University) and Biblical Worldview and Pastoral Care with Blake Purcell.