July 1989: 4 Aggies Pierce the Iron Curtain, continued
August 9, 2019
Aggie #1 Continued:
When I tried to point out this aggressive Za, Za, Za guy to the Soviet policeman, the officer waved me off as if I was actually Za, Za-ing him.
Next, a fellow army officer shuffled by quickly. When I asked for his help, he wouldn't even look up. We had paid a lot to Intourist to take care of all of our needs, so I was shocked that no one was there to fend-off these five-foot tall pushy, intoxicated men.
Since I was now an expert in Soviet culture, having been there for a grand total of five minutes, I decided that the best way to dispense with with Mr. Stubby Finger would be to do it myself. I figured that universal sign language might do the trick, so I raised both fists into a boxing position as if to say, "Come hither, comrade! Let's throw down!"
He backed off immediately and disappeared into the maddening crowd. I realized a few moments later that "Za, Za, Za" must mean "Zigarette" (cigarette). We had about 10 cartons of Marlboro in our luggage, and I would have been happy to give him a smoke, if I I had known.
As it was, I was a messenger of the Prince of Peace (Isaiah 9) who had already threatened a local with physical harm. Great launch for our evangelistic mission!
Aggie #2 Continued:
During these years Blake taught us the significance of discipleship and sharing our faith, as well as the general spiritual disciplines of the Christian life. For me, these were formative years as a new convert and it was a life changing experience. Ministry became as much a part of our weekly life as our Corps and academic responsibilities.
Therefore, when the opportunity to go to Russia came up I don't think any of us hesitated about going - we were all in!
Upon arrival in Moscow and our transportation to St. Petersburg, my first impressions were how dilapidated and decaying the country appeared. Interestingly, we had all been in ROTC classes where we learned about the Russian military power and capabilities, as well as the threat they posed to the US and Europe.
However, it was immediately clear that the country itself, at least in all civilian categories such as its amenities, infrastructure, transportation, construction was more like a third world country than the formidable superpower we had been told about. I realized that this country which most Americans feared was really no threat at all during that time period. And indeed, within that very year the Berlin wall had fallen, and all the physical and spiritual brokenness was exposed.
Because the country was essentially closed at that time, the Navigator's Russian ministry was based in England.
Our responsibilities on our first trip were simply to meet people and befriend them, and try to assure them that others from our British team would be coming to follow up with them and they could be trusted. We prayed God would allow us to meet people who would be strategically influential in opening up networks of friends.
And one of the first persons we met was a young woman who happened to speak very good English and volunteered to be our translator for most of our encounters. It was an amazing answer to prayer! With the people we met we engaged them about their lives, asked questions about what they believed, and ultimately tried to win their trust for those would later follow up with them.
One of the most incredible experiences for me was meeting an artist there in St. Petersburg who gave me a personal tour of the Hermitage Museum. He actually knew a guard there who brought us into the building through a private entrance and led us through the museum at a time when there were virtually no other visitors.
Another great experience was that Peter and I met two young Russian guys about our age who had recently finished their service in the military. We got to meet a lot of their friends as well and one thing I distinctly remember is that when we met people they would introduce us to their close friends.
However, if we tried to introduce people from one friend group to another they were always more suspicious of their fellow Russians than of us.
And there was always resistance in trying to integrate new circles of friends with others. I have many fond memories of being with Blake, Peter and Dave on this trip; as well as Blake and Cathy the following year. We had a lot of laughter and joy as we walked around the city. We must have been either attractive or off-putting to so many local Russians.
They would often stare at us in disbelief on the metro and buses as we talked and laughed with each other.
So many of the common men and women looked visibly discouraged and appeared beaten down by their plight. The light and joy of Christ had been driven out of every aspect of their society and it was obvious how the country and its people were downtrodden.
This experience has given me a vision for the world that has stayed with me over all my years. It has given me clear vision for how important short-term missions are for young believers. It has also given me a conviction about how important it is to support long-term missionaries both financially and with prayer and encouragement. It has also shown me how significant it is for countries and nations to embrace and apply a Christian world view to all aspects of their society and culture. And how nations either prosper or decay in their moral and cultural condition in proportion their application of Christian beliefs and ethics.
This has helped shape my own conviction that faith in Jesus is not just a private or personal spiritual matter, but that it must be a part of our daily work, family, our civic responsibilities. In short, it is our vocation and calling to bring Christ into all we do. And I feel I owe so much of this to Blake Purcell and his friendship, mentorship, and ministry in my life. I am thankful for him and Cathy and that they sacrificed so much of themselves to bring the light of Christ into Russia.
Sincerely, Ron Cheek
Aggie #3: Continued
The trip was deeply memorable, filled with every moment imaginable of laughter, anxiety, hilarity, incredulity, sadness, praise, and joy. Let me recall just a few of these through the theme of language and speech.
I would never have imagined deep in a Moscow train station that I would briefly converse in Mandarin Chinese with a weathered old man from Mongolia in his traditional garb. For him the novelty of seeing another asian from the West at the Moscow train station was too much to bear not to strike up a conversation! All of us on the trip barely spoke a lick of Russian, so language was always an issue as we split into two teams to develop friendships with Russians.
It was miraculous that Blake and I befriended Sima, a young Russian woman who spoke flawless British English. Through Sima we met Olga who didn't speak any English but was fluent in Spanish which Blake and I happened to speak passably. Sima and Olga became our translators and guides for the trip. Imagine how comical it seemed communicating from English to Spanish to Russian and back again. Yet there we were deep in Russia doing just that through Olga with other Russians many times when Sima wasn't there!
For me it was a reminder of God's providence as I had never thought I would be using my 4 years of High School Spanish in such a way.
I will also not forget the boldness of our charges and the friends they introduced us to with the ever present threat of Russian secret police becoming suspicious and preventing further speech between us and our new friends.
Sima and Olga both were always careful in speech and language with us in public venues in particular to avoid the suspicion of the authorities. Nevertheless it was always risky for them and they stood to suffer greater loss than we would. It was a stark reminder of what was at stake, not simply developing human bonds that could subvert basic political ideology, but for the very souls of the Russians which our humble speech acts about the Good News were aimed at.
The impact of that trip remains with me in many ways. My appreciation for God's providential blessings we enjoy in the USA grew exponentially after witnessing the effects of a land enslaved by godlessness. Furthermore, my vision and understanding of what God's redemptive purpose through Jesus Christ also expanded tremendously.
Jesus's proclamation from Isaiah, "The Spirit of the Lord is on me, because he has anointed me to proclaim good news to the poor. He has sent me to proclaim freedom for the prisoners and recovery of sight for the blind, to set the oppressed free," took on much richer meaning for me which has guided me in seeking out ways that God would have me involved in His kingdom work.
Moreover, the shape of the calling of relationally oriented ministries shaped by agapic love which I experienced along with Blake, Pete, and Ron was solidified from this trip and it continues to guide my family's approach in participating in God's redemptive plan.
Finally, I remain in awe to see what God has done in the last 30 years which started with Blake's willingness to respond to the Holy Spirit's nudging towards Russia. I take much joy in even sharing in a little part in that modest little, but life- changing trip we made in 1989.
Aggie #4 Continued: The Defense Department investigates Lt. Peter Collins
After Peter graduated from Texas A&M and was commissioned as a Lt. in the United States Air Force in 1990, Blake Purcell got a call from a Defense Department Investigator that went something like this:
"Is this Mr. Blake Purcell?"
"Yes."
"Did you take cadet Peter Collings to the USSR in the summer of 1989?"
"Yes, sir, I did."
"What was the purpose of your trip there?"
"We are with a Christian ministry called the Navigators, and went to share the Gospel of Christ with Soviet citizens."
"Thank you. This concludes the official portion of this investigation, but on a personal level, let me congratulate you for your courage in the Lord Jesus Christ."
It does pay to have Christians in every area of government!
Things Will Never Get Better in Russia!
May 11, 2019
I will never forget what one of our graduate's wives said. They were serving as the pastor and wife of one of our churches in the middle of Russia. I said to her husband, "Well there is always hope things will get better." She overheard me and immediately said, "In Russia things never get better."
Wow!
Now she and her husband, her mother told me, are considering emigrating to America.
This epitomizes why encouraging Russian Evangelical Christian women in general, and Russian pastor's wives in particular, is critical for the growth of the Gospel there. Day to day living in Russia is harder on women than men.
This is due to the outrageously low wages due to the weak economy, and primitive, sometimes dangerous, health care. That wife who said things never get better has had horrible experiences with the Russian health system.
When Florence Rayburn and Paige Price accompanied their husbands when they taught our intensive course in 2014, we asked Rob's church, Faith, in Tacoma, WA, to give an extra $10,000 so that the pastor's wives could attend the intensive for 1 week in St. Pete. They did and Florence got to share 2 messages with them during the week of hospitality, gift giving, site seeing and fellowship. The women loved being loved on by Cathy, Florence and Paige.
We would like to make this an annual event, bringing all our 25 pastors wives together for a week every Fall during the Fall Intensive. Of course it will cost an extra $10,000 at least.
We have been doing this on a small scale since we moved to the USSR in 1990. Cathy has always had a ministry of speaking and encouraging the women. During the last few years our daughter in law, Galina, has invited her circle of friends, mostly from our local HopeRussia churches in St. Petersburg, to come hear Cathy give a talk in our home in St. Pete. Cathy did this again in April of 2019. Cathy chose to speak on joy in the Bible.
Galina on how the women reacted:
They were surprised to hear that joy is a choice that makes a habit when practiced over time. That means we can actually influence how joyful we are even if we are not joyful by nature - and there is a hope in it.

One of them said the best of all she liked how attentively and nice Cathy spoke to her personally while having tea and that she asked good questions.

There was also my friend who is not a Christian yet, and she said that topic was exactly right for what she was thinking that time of her life. And I am glad we could invite her to a meeting where she could experience God's presence among those who are gathered in His name.

For a few of the women it was helpful to hear that rejoice in the Lord - is a command in the Bible, not something we can say we don't have and is not necessary to get.

And overall Cathy gave us practical steps how we can become more joyful, and each women could definitely find at least one she can apply to her life.

Why do I think we needed this message. I personally became interested in Christianity when I saw how joyful people at church were and how much they loved the Lord. Joy is something that attracts people, because somewhere deep inside they feel we were meant to have joy in life.

It was important for us to hear that God not only commands us to rejoice, but also gives us wise ways to get it. It was powerful to hear Cathy saying that God gave her little moments of joy even in the midst of sorrow. That God gives us joy in a small things in every day life.

Every women there had her own sorrows and we needed to know that God can still give us joy.

Most of all we had a time with wise women who encouraged us to grow in our life with the Lord and showed us how we can do that.

And this is priceless for young women. I am thankful we could have that meeting.
Pray for our ministry of face to face and heart to heart encouragement to our 25 pastors' wives to begin in 2020!
HopeRussia Pastors: Rescuing within a yard of Hell
April 14, 2019, St. Petersburg, Russia
We witnessed two weeks ago that C.T. Studd's ambition is our Russian pastors' in Siberia ambition as well. They have built and minister alongside 10 drug rehab centers in their region where men and women come to be delivered from a drug-enslaved hell on earth (and often die before they are delivered).
I got to visit with the three men on the left and their stories are a microcosm of entire culture. One has been at the center for five days, another for a month and the longest for five months. In this blog I want to portray three different players/events in this war against death by drugs.
Portrait #1: Three Begin the Journey to Salvation
Sunday, March 31st, we attended worship at Pastor Andrea Skryabin's church in Prokopevsk, and in the service three men from his church-operated drug rehab center came forward to ask God to save them through Jesus Christ. Each of the men were emaciated and deathly pale, addiction had all but killed them.
Transcript of the prayer of repentance of 3 drug addicts in the church of Pastor Andrea Skryabin, that Evgeni and I witnessed Sunday, March 31st, in Prokopyevsk, Siberia:
Pastor Andrea Skryabin:

Repeat loudly after me.

Dear Lord Jesus, today I acknowledge myself to be a sinner. I ask you Lord Jesus for forgiveness for all my sins. I ask you Lord Jesus, take my life and change my life. I today renounce all ties to Satan and into your hands I commit my life. I thank you Lord Jesus that you have forgiven my sins and received me into your kingdom. I thank you Lord that my name is written in the book of Life. I pray to you in the name of the Lord Jesus Christ. Amen.
Clearly, these pastors are working within a yard of hell.
At https://www.narconon.org/drug-information/russia-drug-addiction.html we read:
The life expectancy of an addict in Russia is between four and four and a half years. Even when an abuser is registered, fewer than 10 percent ever make it into a state-run drug treatment facility.
Tragically, addiction is hitting young people the hardest. The majority of drug addicts are between 16 and 30 years of age. In the last decade, the age of "first use" dropped from 17 to 14 years.
Figures on how many Russians are using drugs or are addicted to either drugs or alcohol vary greatly. No two reports provide the same figures. One report estimated that 70,000 Russians die from drug overdoses. Additionally, another report stated that 50,000 more people die each year from alcohol abuse. What makes this heartbreaking scene worse is the scarcity of effective drug rehabilitation in the country.
Only about a third of Russia's regions have any treatment facilities at all. And the results from treatment facilities, when they do exist, are disappointing. Some reports state that 90 percent of addicts relapse in a year or less. In very few cases do any drug treatment centers attempt to teach an addict how to live a drug-free life.
The London Telegraph reports,
Russia is 'world's biggest consumer of heroin'. Heroin has become a large threat to Russia's national security after seizures of the drug rose 70 per cent, anti-narcotics police have said.
Russia has become the world's biggest Afghan heroin consumer with up to 2.5 million drug addicts out of a population of some 140 million and most of them aged between 18 and 39. Photo: GETTY.
Portrait #2: The Tale of 2 Recovery Centers Where HopeRussia Pastors Minister
Evgeni and I got to visit two centers while we were in the Kemerovo Oblast of Siberia. The first one was spectacular. The second one was an effective mustard seed.
Spectacular: The Source of Life Rehab Center in Cheremushki, Novokuznetsk area.
Right: Part of the State of the Art Evangelical Rehab Centre Source of Life, Novokuznetsk area, Siberia.
The study center for doing daily Bible study and self evaluation at the Source of Life Drug Rehab center. Unbelievably up to date thant to the generosity of American Assemblies of God.
Left: A key to recovery (and a sober reminder!). I stand (left) with HopeRussia pastor Andrea Chernyavsky. The center is now financially self-sustaining because donors have given table saws and other equipment (left). They make and sell coffins, and even have founded a funeral service company. The inmates get to meditate on the fate as they make coffins!
Nothing was more encouraging than seeing a former Communist Young Pioneer Camp turned into a Christ centered, relatively state of the art, self supporting drug rehab center! Take that Lenin!
Seven years ago the Evangelical pastors in the area plus an American Assemblies of God missionary, had the gutsy faith to offer $100,000 for an abandoned camp...and they got it! Slowly with that plus more gifts from American Assemblies of God, it became a self sustaining repcenter housing up to 200 drug addicts at a time. When we were there they had 60.
The founder of the Evangelical movement there was executed by Stalin in 1937 and now his spiritual children are dominating the culture of the region. In downtown Novokuzneck the city erected a statue of Jesus, which reads, "Come Unto Me All Who Labor and Are Heavy Laden" Matthew 11, and then lists the 10 commandments.
Down the road a neglected statue of Lenin still stands.
The Mustard Seed Drug Rehab Center of Kaltan, Siberia
HopeRussia pastor Roman, of Kaltan, Siberia (Kaltan is a Mongolian name), discipled Alexander (below) after Alexander turned to Christ from drugs in 2017. Now Roman has sent Alexander into one of the failed communities of Kaltan, to found their own drug rehab center.
In contrast to Cheremushki center, they have received no outside help, and were given a delapitated house and yard. They are raising pigs to support the center. Misha, whose testimony I shared in our latest news, is now working there with new enrolies to their program whom they are sharing the Gospel with.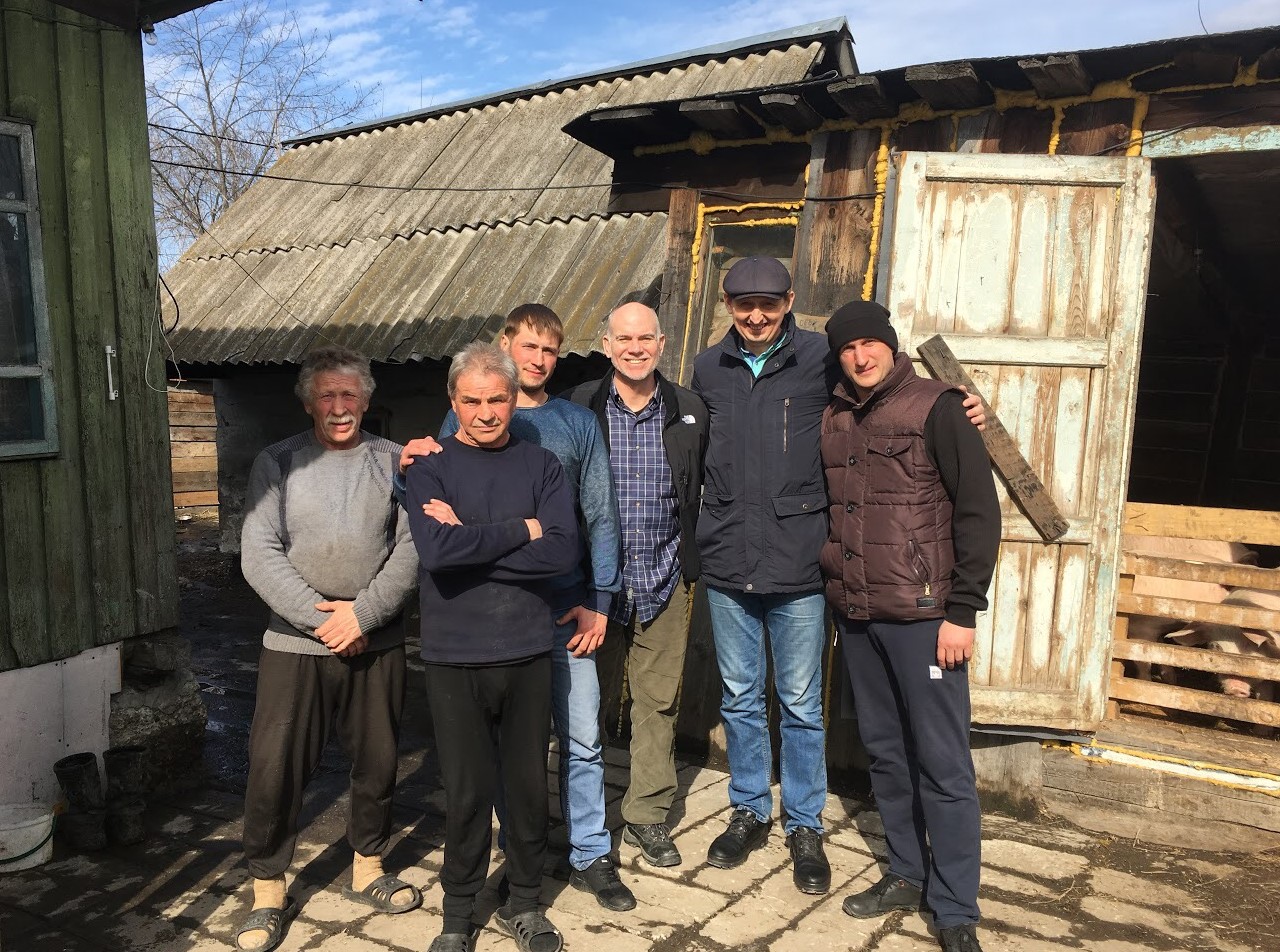 I am in the middle, and to my left is Misha, who came to Christ there 2 years ago. HopeRussia Pastor Roma is the tall one. Alexander, far right, a former addict, has dedicated his life to rescuing local drug addicts from death and destruction through Christ. Freely he has received. Freely he is giving. (Matthew 10)
Russian government programs, which barely exist, have a 90% failure rate. The Christ-centered Evangelical centers have an 86% non-recitivism rate for those that finish the one years course of work, accountability, love, fellowship and Bible study and worship. All the recovery centers are connected to churches where the inmates attend worship.
About 1/3 of the Evangelical pastors in this region are former drug addicts that came to Christ in these centers.
This astounding success rate is because the Gospel of Jesus Christ is the power of God for salvation, Romans 1:16.
The program these centers use is called Teen Challenge has been around since 1960. Here are further details: https://en.wikipedia.org/wiki/Adult_%26_Teen_Challenge.
The ministry that would later become Teen Challenge (and in 2017 changed to "Adult & Teen Challenge") was founded in 1960 by David Wilkerson, an Assemblies of God pastor who left a rural Pennsylvania church to work on the street among teenage gang members and socially marginalized people in New York City and who, perhaps, is best known for later authoring The Cross and the Switchblade and founding Times Square Church. Teen Challenge started its first residential program in December 1960, in a house in Brooklyn, New York.
Programs have a general duration of 12 months. The ATC-USA Board of Directors approved a "Phase" system to explain core structures of Teen Challenge. All centers of any Phase are expected to be involved in Phase 1. The phase ministry is as follows:
Phase 1 - Recognition of destructive and habitual thoughts that lead to substance abuse.

Phase 2 - Focus on healing the wounds of past failures and broken relationships.

Phase 3 - Character development and spiritual growth with a discovery process identifying personal strengths and setting individual goals.

Phase 4 - Continuing Care Planning includes employment/educational plans, housing, financial planning, relationship skills, support system evaluation, leadership skills and relapse prevention.

Phase 5 - Re-entry - generally for those graduates needing additional assistance in education, transitional housing, securing jobs or job skills, but can involve other reasons.

Phase 6 - Restoration - for graduates who have returned to old behavior patterns. Phase 6 is a rare ministry as a center, and is more often co-located with a Phase 4.
Much of these results were to Teen Challenge's benefit, and the high success rates (up to 86%) he found have been quoted in numerous Teen Challenge and Christian Counseling websites.
Portrait #3: A Former Substance Abuser, Now Reformed Church Planter
In Russia with 1% of the population Protestant, everyone must lead lost sinners to Christ to grow the church. (In other words practice Biblical church growth!)
We, the Evangelicals in Russia, are more and more seeing that when we have Christ, we have true unity. The Assemblies of God (called Evangelicals and Pentecostals in Russia) can teach us Presbyterians how to save the lost in such a time as this. And we Presbyterians are offering them the chance to study and preach the whole Bible, with all its long-term blessings. So truly the body of Christ, by this cross pollenization, is upbuilding it self in love (Ephesians 4:16) and proving to the world, that Jesus saves, even within a yard of Hell!
The saying is trustworthy and deserving of full acceptance, that Christ Jesus came into the world to save sinners, I Timothy 1:15.
The Siberian Blessing: Why Are Pentecostals and Reformed Presbyterians Ministering Side by Side in Siberia?
April 7, 2019, St. Petersburg, Russia
Cathy and I are in St. Petersburg Russia now, living a block from the apartment we own. Our son Lewis rents that apartment from us with his wife Galya and three children, including, Vasili, just born. Graham and Sarah, living next to Galya and Lewis are expecting #3 in July, which will be our 13th grandbaby! Not too shabby for being born in 1958.
I just returned from 4 days in Dmitrov, near Moscow, and 4 days in Siberia, visiting 6 pastors we have or are training and their families and ministries. I am tired but happy!
One of the things that is making me happy is how blessed it is when brethren dwell together in unity! Psalm 133:1. Blessed means happy. Evgeni and I just spent 3 days ministering with wonderful brothers in Christ, pastors in the HopeRussia seminary, in Siberia. Our understanding and I think appreciation and respect for one another grew the longer we were together. Why?
We are a "Reformed" ministry after all! And the Pentecostal are known for being much different than us in many ways. Why do they like us so much, and we like them?
After discussing this with Pentecostal pastors Andrei Skryabin, Roman Pankin, and Andrei Chernyavski, I came up with three reasons why we especially love and respect our Pentecostal brethren in Siberia:
The Siberian Pentecostals Were Born Out of Martyrdom, and Live in Singular Dedication to Christ, and God is Honoring Their Love for Him.
As we bounced along Siberia's rutted roads with pastor Andrei Skryabin I asked, "How did the Pentecostal get here?" Andrei, trying to keep the car from jerking too much so I would not get nauseous replied, "Pentecostals were exiled here by Stalin in 1948. They immediately began preaching the Gospel."
He added, "In 1920 The first Pentecostal leader Ivan Voronaev together with Gustav Smith traveled through Western and Southern Ukraine and over 350 congregations in Russia, Ukraine, Poland, Bulgaria were eventually founded. In 1926, the preacher published "Short Catechesis of Christian Evangelical Faith (CEF)". Eleven years later in 1937, Ivan Voronaev was killed by Stalin's henchmen, right here in Kemerovo region, where our students pastor their churches. But Ivan's work was not in vain.
Then in 1993 missionaries from the Assemblies of God in the USA came and lived among them for a short while and introduced them to non-legalistic, winsomely evangelistic ministry and worship, and a new kind of Pentecostalism was born in the Kemerovo region of Siberia. They now own and run 10 drug rehab centers in the region, and put on ultimate frisbee competitions throughout Russia! There are more Evangelical believers in this region than there are Russian Orthodox. A miracle!
The real proof of our 3 pastors love of Christ however, was not just the loving relationships they have with their wives and children, which were very real, but that they stayed in one of the poorest parts of Russia for the sake of Christ! Most of the old Pentecostals emigrated to the USA in the 1990's. To illustrate the point delicately, there is no running water for toilets in the free standing houses in Siberia!
The drug rehab ministries and sports ministries are so blessed by God that they make up the bulk of the 100 that came to Christ in 2018 in the churches of the pastors we are training now. In Russia, if you do not lead sinners to Christ from outside the church, the church does not grow.
I am reminded of Jesus' words that reveal to us why our brethren are so fruitful in Siberia.
Truly, truly, I say to you, unless a grain of wheat falls into the earth and dies, it remains alone; but if it dies, it bears much fruit. (John 12:24)
Now, why do the Pentecostals of Siberia love studying at the HopeRussia seminary?
I. We teach the Word of God in an intriguing way
For instance, in my week of lectures week before last to 28 Russian ministers on preaching the Word, I did not focus primarily on, "The Word is inerrant and inspired" but rather on Psalm 147:15, He sends forth HIs command to the earth; His word runs very swiftly.
In Hebrew the word runs here, רוּץ, ruts, is used of horses running in Amos 6:12 and of locusts in Joel 2:9. In other words, the Word is wild and flies! The Word acts like this description of locusts in Joel 2:9, "They shall run to and fro in the city; they shall run upon the wall, they shall climb up upon the houses; they shall enter in at the windows like a thief".
This gets men interested.
For example, photo above right is Alexander Karelin, from Novosibirsk, Siberia. He is the most popular person in Russia. He won 3 gold medals in Greco-Roman wrestling and now is a Senator in the Duma and friend and advisor to President Putin. Russians respect men like this. Russia is still in many was a hard place to live, so the Russian love men's men.
Photo right: And here am I, doing my version of Alexander Karelin, after I preached at a Reformed Church in Springfield, MO.
Since I founded our seminary in 1999 one key to our success is to invite only intriguing teachers! We should never bore folks with the Gospel!
II. We try to be relevant to where Russian men are in their lives and ministries
Pastor Roman of Kaltan, Siberia, with a church of 50 souls, asked me when here in St. Pete, two weeks ago, "When you come we will have you talk to our 10 key men. What will you speak about to our men?"
I answered, "What about The Word of God in our lives, how to battle and win against pornography, and the cultural mandate of Genesis 1, taking dominion of the earth and being fruitful and multiplying?"
"Wonderful!" He said. "The men will love this!" And they did!
Most of the men of Russia coming to Christ are either former convicts or substance abusers. They love a good clear message and challenge. They have no time for subtleties (which I don't know anyway).
I have realized more and more the last few years how the Lord is making Cathy and me live out our sermons, by no planning of our own. My background (former US Army Infantry Officer, Texas Collegiate Wrestling Champion 1978 and 1979, and leading men to Christ and leading ministries from 1974 until now, including in the USSR in 1990-1991) is interesting to them.
Raising 6 children, 5 of whom are now serving the Lord with their 12 children, is attractive to Russian leaders. Having 2 sons with the families living in Russia and in ministry is relevant to Russian leaders.
This is how the Gospel is effectively preached, by credibility. I Thessalonians 1:4-5, "For we know, brothers loved by God, that he has chosen you, because our gospel came to you not only in word, but also in power and in the Holy Spirit and with full conviction. You know what kind of men we proved to be among you for your sake".
My and Cathy's 30 years of ministry in the USSR and former USSR have equipped us to be uniquely relevant.
III. The God-orchestrated blend of 30 years of religious freedom, with our Russian pastors 5-20 years of ministry experience, their need to have proof of a formal education, with the need for an education they can afford.
My final guess as to why we are growing in popularity in the former USSR is because God has blessed Eurasia with relative religious liberty for the first time in 1000 years. This has allowed Russians to hear the true Gospel of salvation by Christ alone, through faith alone, by God's grace alone, and to plant churches everywhere based on this foundation. But after 20 years of ministry they realize:
1. They have no understanding of the whole Bible nor are the able to preach the whole Bible.
2. They have no clear teaching on the family in both husband wife relations, and parent child relations.
3. They a limited and sometimes legalistic view of true godliness.
4. They are not able to keep growing in Christ on their own.
5. They have no one much more mature in Christ than them who can mentor them.
6. They have very limited understanding of the Historic Christian Church or faith and feel rootless.
7. They cannot afford a formal ministry education in a brick and mortar facility, and cannot educate themselves on-line effectively.
8. The denominations that brought them to Christ are not as equipped to meet these needs as we are.
9. The Russian government is putting pressure on them to look like and act like the Historic Church which includes:
● Have a formal education with a diploma
● Meet in public church-looking building
● Wear distinctive clothing of a formal leader of the formal Church
● Prove they are not trying to do anything in secret against the government or the welfare of the people.
10. In their thinking we are able to help them make measurable progress in each of these areas.
In the above 2 photos we see the direction the Russian churches are heading as they become a part of Russian society. Evangelicals are building church buildings and wearing clothing that identifies them as pastors. This is me (my collar tab was out) and pastor Andrei Skryabin this past Sunday. In his region of Russia, the Kemerovo region, the Protestant churches and flocks outnumber the Russian Orthodox! This is probably one of the only regions like this, but a great "beachhead" into Russian culture!
We feel blessed and honored to be with them, and they feel the same way about us. I call this the Siberian Blessing!
And the results?
Acts 19:20 "So the word of God grew mightily and prevailed."
Amen!
Being a Father to a Fatherless Culture
When biblical Christianity comes into contact with any of this world's fallen cultures, the resulting transformation can be profound and sometimes heartbreaking. For this first entry in his new blog page, HopeRussia's Founder and President, Blake Purcell, gives us an inside look at what happens when biblical masculinity—even an imperfect representation of it—encounters a culture where God's image shown through masculinity has been harshly distorted by the Fall.
"Why weren't you my papa?" He wept as he fell to one knee. The clarity of how bad it had been exploded into his awareness—now that he and his wife had given birth to their first child. "My dad brought women into our house when my mom and I were home and took them into his bedroom. Can you imagine what that was like for us?" "Blake, why weren't you my dad?" he cried. "Evgeni, what was your relationship with your dad like?" "Well, he drank...and then he beat me." His experience is not unique. When men who have been raised in the former USSR interact with me labout what their fathers were like, the interaction is often like the conversation I had with Sasha F in 1994: "Who influenced you more, Sasha, you mother or father?" "Well...really, my Soviet school teachers influenced me more than either of my parents. Blake, you are the first adult that has ever asked me questions about my life." My ongoing conclusion after living in Russia full-time from 1990-2015 is that Russia was and continues to be a nation dominated by fatherless men. And the Evangelical Church in the Russian speaking world is the same. Almost all of the 50 pastors and ministers that have attended our seminary have never had an older mentor—a spiritual father—as Paul called himself to the Corinthians, in I Corinthians 4:15. Paul called Timothy "his dear son" in II Timothy 1:2, and "my true child in the faith" in I Timothy 1:2, even though Timothy was already a believer when he met him.
Since founding HopeRussia Seminary in 1999 in St. Petersburg, I have become the spiritual father for a short time to all 50 of the men who have come through our training, and more long-term spiritual father for about 15 of them. (Some of them left because they did not want a spiritual dad who asked hard questions!) The distinctives of my mentoring of all of these men fall into two mutually dependent categories:
1. I introduce them to a life lived in the whole counsel of God, the whole Bible.
2. I coach them in every area of life, especially their personal walk with God, their marriages, and their family lives.
The stark reality is that, since they have never had anyone do this with and for them, they really struggle to do this for others, so their pastoring can be very shallow. Right now I am actively mentoring fifteen Russian pastors in following ways:
With Pastor D: How to earn your wife's respect, and my wife Cathy is coaching the wife on how to trust your husband.
Pastor F: With your background you probably need to go a whole year without drinking any alcoholic beverages.
Pastor R: You need to support your family financially first, and do the ministry second.
Pastor A: You need to spend time every week as a family, eating at least 1 family meal every day.
Pastor S: You need to take your wife out on a date every week.
Pastor B: You need to read the Bible and pray every day just for yourself, at least 15 minutes. And pray over and for everyone in your ministry every week.
Pastor G: You need to live with your wife and kids. Living apart from them for months on end is very dangerous.
Pastor P: You need to have your worship service empower people with a positive experience of the Lord's supper every week, so that you do not have people leaving worship simply with a long list of new things they have not been doing or doing right.
As we try to love them with the love of Christ, many HopeRussia students have "come out of their shell," asking poignant questions like, "I have a gum disease and need to replace all my teeth. Can you help?" and "My father has just died in China and I need to go there to bring home his body. Can you help me?" Here is Pastor Evgeni's feedback on how HopeRussia's commitment to building relationships with our students has helped them grow in biblical masculinity: "Before I came to the seminary, I did not know how to use the whole Bible in my life and ministry. I worked at the church until 11 o'clock every night. I spent no meaningful time with my wife and children. So when I learned the Biblical approach to life and ministry in which a husband and father prioritizes those roles, especially when he is a pastor, this radically changed my life, saved my family, and even kept me in the ministry. I think I would have quit if it were not for the teaching and coaching the Blake and the staff do with us. I do not know of any other ministry in the former USSR that focuses on the lives of those in the seminary as the HopeRussia seminary does."
Your friend in Christ,
Blake Purcell
"For you shall go out in joy and be led forth in peace." (Isaiah 55:12)